Brought to you by Destination Cuba a company with 20 years of doing in the business in Cuba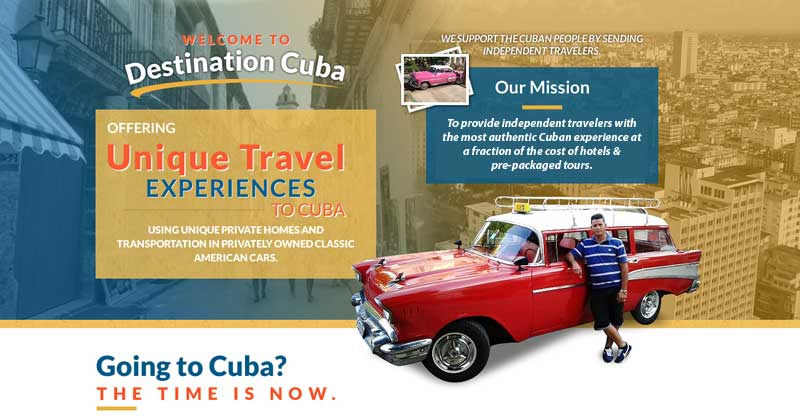 Havana is also the former home of Nobel Prize winning America author Earnest Hemingway. His home is located just outside of Havana and is now a museum where his fishing boat, The Pillar is located. For those of you looking to visit its former port, Cojimar, we can also arrange that for you. Our scouts have been traveling here for many years and often visited with his boat captain, Gregorio Fuentes in his home to discuss fishing techniques and hear him tell stories of "Papa", as he was known. We have also brought in experts in modern fishing methods to train local crews if you wish to fish the water made famous by Hemingway's "The Old Man and the Sea" whose protagonist, Santiago, was based upon Gregorio Fuentes himself. For any angler, this is a "must do" and the Gulfstream is so close you need only travel a few miles offshore to experience nearly virgin waters full of Sailfish and Marlin. All fishing is catch and release and all conventional tackle included.
Our private homes are located a short ride from Old Havana in a privately owned 1950's American automobile. They all have air conditioning and private baths and owned by earnest and friendly Cubans excited about finally being able to receive Americans.
Our base package includes a meet and greet service at Havana's international airport and three nights in Havana. All accommodations in private homes  or casas particulares, have air-conditioning and private baths and start at just $35 a night (for single or double occupancy. Breakfast is just $5 and held at a converted mansion nearby and is a meeting place for local travelers. If you have any dietary requests, they are more than happy to accommodate you. You can choose this package only or use it as a base before heading out to explore one of the other exciting destinations.
Add-on Tour Option 2
If you do wish to see "the other side of Cuba" and its pristine countryside and friendly "guariros" as the locals are known, we suggest you think about Playa Girón, or as we know as The Bay of Pigs. Our homes in Playa Girón, like Havana, have a base home where you can dine on local fish and lobster prepared by an actual chef and there is frequently a local musician playing traditional music at dinner. Your hosts, YaYa and Manolito speak English and can assist you to enjoy some of the best snorkeling, diving, fishing and bird watching found anywhere in the world.
For you anglers, we have a special arrangement with a Cuban conservation organization that works with fly fisherman looking to fish its nearly million acre Zapata National park to help study and preserve its teeming numbers of Bonefish, Permit, Tarpon, and Snook. All is catch and release and you must bring your own fly rods and reels. We may be able to assist you with flies that are suitable for the location.
For those that do not fish a visit to the park is another "must do" to see its Flamingos, Manatees and dozens of other forms of wildlife in a completely protected environment.
One of our drivers in his own 1956 Dodge can tell you firsthand about the famous U.S backed invasion that occurred here in 1961 that brought 1200 Cuban exiles to this idyllic location in attempt to overthrow the young Castro government. Most Cubans have been born after this event and come here to enjoy its natural beauty and walk past the museum that commemorates this event, but you should not miss the chance to learn about this famous confrontation that resulted in Fidel Castro declaring the government's dedication to socialism.
We suggest you spend at least four nights here, in order to be able to explore Zapata National park, snorkel or dive over one of the shipwrecks found just offshore, its fresh water springs and completely laid back atmosphere.
Prices start at $35 a night for two people (total, not per person) but do not include local tours which we can help you arrange in advance so you take most advantage of your time. Remember, you will be supporting the Cuban people directly and paying them directly at the local rates.
If you are interested in visiting any other locations, like the colonial city of Trinidad, Cienfuegos, the Pearl of the South, or any place else we will be more than happy to arrange that as well.
WHAT ARE YOU WAITING FOR? IF YOU WANT TO EXPERIENCE A TRULY UNIQUE ADVENTURE AND SEE CUBA THE WAY IT IS NOW BY "SUPPORTING THE CUBAN PEOPLE" WHEN THEY MOST NEED IT, CALL US TODAY!