The famous Havana Bar El Floridita, one of the favorite watering holes of Ernest Hemingway, chose the new "King of the Daiquiri" (El Rey del Daiquiri) in a new international competition that began this year. Bartenders from the US, Argentina, Canada and Puerto Rico participated in this event for the first time.
The 12 contestants were given five minutes to make their version of the classic daiquiri that consists of lemon juice, frappé ice and rum.
Pedro Iván Rodríguez, who is Cuban and works in Havana's El Ajibe restaurant, won first place in the competition. Cubanbartenders also finished in second and third place. The winner, señor Rodriguez, was previously named the best bartender in the city of Havana in the year 2013 and said that it was an honor to compete at one of of the ten most famous bars in the world, El Floridita. The contest marked the first time in 60 years that a bartender from the United States was allowed to prepare a daiquiri due to the improved relationship between Cuba and the United States.
In conjunction with the daiquiri contest another interesting event happened in Havana. The grave of the barman who served drinks for writer Ernest Hemingway was the setting Friday for an unprecedented toast with daiquiri prepared by United States and Cuban bartenders at Havana's Colón Cemetery. A dozen bartenders from both countries — which this week re-established diplomatic ties after half a century of enmity — gathered at the cemetery to honor barman Constantino Ribalaigua, known as Constante, who died in 1953.The peculiar tribute began with a minute of silence in front of the mausoleum of Constante, who for 35 years owned the Floridita bar in Old Havana, where this cocktail made of rum, lime juice and ice, created in Cuba in the late 19th century, became famous.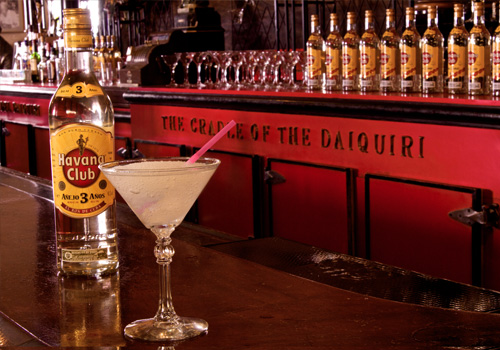 The homage to Constante marked the start of activities to celebrate the bicentennial of the Floridita, in 2017, one of the bars preferred by Hemingway (1898-1961), who lived in Cuba for 21 years.Next to the Floridita's counter there is a life-size, bronze statue of the author of "The old man and the sea" and 1954 Nobel Prize-winner for literature, with which nearly all tourists take a selfie.
The Floridita serves daily between 600 and 700 customers, who pay $6 for each daiquiri, and is one of the two most famous bars in Cuba. The famous bar is the "Bodeguita del Medio," where Hemingway used to drink mojitos, also in Old Havana. Despite the United States-Cuba political dispute after the 1959 revolution, devotion to Hemingway was kept alive on the island. In fact, he is one of Fidel Castro's favorite writers.