Cubans are avid sports fans and interested in a variety of spectator sports. Cuba is viewed by many as "the best little sports machine in the world" because of the number of outstanding athletes it has produced over the years, including three-time Olympic boxing champion Teofilo Stevenson and Javier Sotomayor, the world record holder in the high jump and only man to clear 8 feet in the event. Most young people are encouraged to participate in some kind of athletic endeavor.
Since it was introduced in the early 1900's, baseball has been the favorite sport of Cuba. Many Cubans have distinguished themselves as professional players in the big leagues. Cuba's amateur teams are some of the best in the world. Almost every city and town has a stadium where baseball games take place. Cuba's major league is called La Liga Nacional. Over the last few years there has been a string of defections of Cuba's most notable baseball players including Orlando "El Duque" Hernández, his brother Livan and Rolando Arrojo to name a few.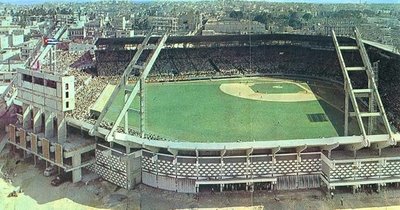 The main baseball season runs from December to June. Havana's main baseball stadium is the 60,000 seat Estadio Latinoamericano. Havana has two national teams, Industriales called "Los Azules," and Metropolitanos known as "Los Metros". Everyone should attend a lively baseball game in Cuba to savor the wonderful atmosphere. Tickets are sold on a first come first serve basis.