Fishermen will love Cuba since it is surrounded on all sides by ocean. Cuba's waters have some of the best sport fishing in the world. Although there is a large variety of edible fish near the coast, only a few species are fished for sport. Snook, tarpon, grouper, sailfish and marlin are the most popular game fish. The Hemingway Marina, west of Havana, has world class facilities for sport fishing. There are several companies offering sport fishing. The Hemingway International Marlin Fishing Tournament is held there yearly in May or June. There are other deep-sea fishing events and tournaments throughout the year.
Cuba is dotted with numerous man-made lakes for freshwater fishing. The country's lakes teem with largemouth bass—the most popular freshwater fish. Lake Hanabanilla in the Escambray Mountain Range is one of the most famous 'fishing holes'. The best inland fishing is found at Lake Zaza. La Redonda Lake, Laguna Grande in Pinar del Río province and Tesoro Lake in Matanzas province are also good fishing areas.
Liberal hunting laws make Cuba ideal for hunters. Pheasant, doves and quail are some of the game birds found in Cuba. Deer, wild pigs, and other mammals may also be hunted. There are about fifteen key hunting reserves located around the island. A number can be reached quite easily from Havana. Most hunting resorts offer lodging, guides, and all types of hunting equipment. INTUR issues seasonal hunting permits.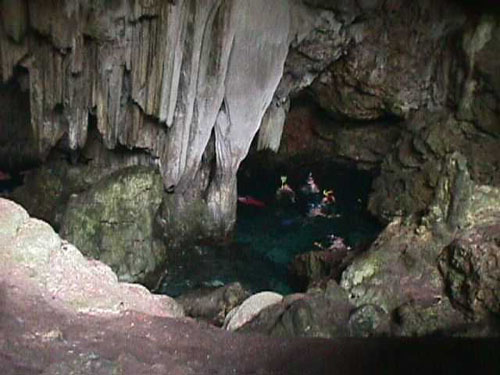 Because of its hundreds of miles of limestone cave formations, Cuba is one of the best places in the world for cave exploration. Almost every province has caves. The Caves of Bellamar or Las Cuevas de Bellamar, south of the city of Matanzas, are considered the best in Cuba. These caves are about a mile and a half long with vaulted ceilings and beautifully colored stalagmite and stalactite formations, and under ground streams. North of the small town of Viñales is the Indian Caves or Cuevas de los Indios. This cave system may be explored on foot or by boat. At the end of the trail visitors can climb in a row boat and follow the underground stream to the cave's end.
Camping and hiking are other activities in which you may participate. There are campgrounds located outside of most towns, by rivers, at beach areas and mountain resorts. Hikers can find trails to explore and breath taking scenery in Cuba's mountain ranges. The Sierra Maestra Mountains and Soroa are excellent places to explore on foot. Nature lovers, bird watchers and botanists will find a lot to see all over this tropical outdoor paradise. Horseback riding is offered at most resort areas.