"He always thought of the sea as 'la mar' which is what people called her in Spanish when they love her. Sometimes those who love her say bad things of her, but they are always said as though she were a woman."
-Ernest Hemingway, The Old Man and the Sea

Cuba is a beach lovers' paradise. There are about three-hundred unspoiled beaches scattered along Cuba's many miles of irregular coastline. Most of these beaches are undeveloped, and considered among the best in the Caribbean, have white sand and are bounded by crystal-clear ocean water. The temperature of the water ranges between 75 and 80 degrees depending on the location of the beach. The Atlantic waters tend to be a few degrees cooler than the Caribbean.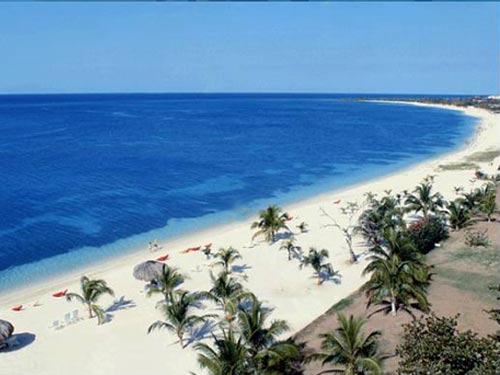 A third of Cuba's beaches are readily accessible and fifty have hotels and other facilities for tourists. As you know from reading the last chapter, varadero on the north coast is the most famous of all Cuban beaches. Guardavaca is another popular beach on the Atlantic side of the island. Santa Lucia in Camagüey Province is considered a diver's paradise. Playas del Este near Havana are the beaches frequented by the majority of Havana's residents, or havaneros, on weekends and holidays.
There are also spectacular beaches along the Caribbean coast. Most areas have facilities for sailing, fishing trips, jet skiing, surfing, catamarans, body surfing, windsurfing, parasailing and every imaginable water sport for the adventurous traveller. Near the city of Santiago de Cuba many excellent beaches can be found. You can stay in Santiago and visit the beaches in this area.
Cuba's abundance of coral reefs and cays, variety of colorful marine fauna, over 900 species of fish and crystal-clear water make it the perfect place for diving buffs. Cuba is surrounded by one of the world's largest coral reefs. Diving is fantastic and Cuba's number one water sport. The island has over 30 dive sites from which to choose. You don't have to go far from Havana to find diving sites since Jicoba and the surrounding beaches have diving locations.