"He always thought of the sea as 'la mar' which is what people called her in Spanish when they love her. Sometimes those who love her say bad things of her, but they are always said as though she were a woman."
-Ernest Hemingway, The Old Man and the Sea
Cuba is a beach lovers' paradise.  There are about three hundred unspoiled beaches scattered along Cuba's many miles of irregular coastline. Most of these beaches are undeveloped, and considered among the best in the Caribbean, have white sand and are bounded by crystal-clear ocean water. The temperature of the water ranges between 75 and 80 degrees depending on the location of the beach. The Atlantic waters tend to be a few degrees cooler than the Caribbean.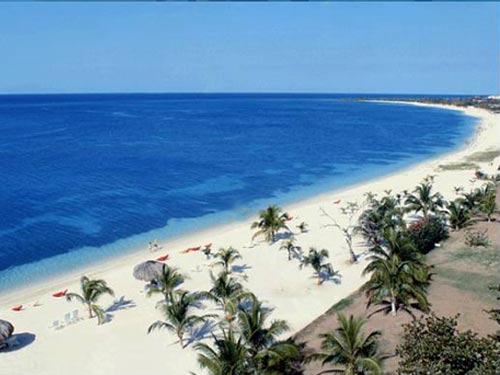 A third of Cuba's beaches are readily accessible and fifty have hotels and other facilities for tourists.  As you know from reading the last chapter, Varadero on the north coast is the most famous of all Cuban beaches. Guardavaca is another popular beach on the Atlantic side of the island. Santa Lucia in Camagüey Province is considered a diver's paradise. Playas del Este near Havana, are the beaches frequented by the majority of Havana's residents, or havaneros, on weekends and holidays.
 There are also spectacular beaches along the Caribbean coast. Most areas have facilities for sailing, fishing trips, jet skiing, surfing, catamarans, body surfing, windsurfing, parasailing and every imaginable water sport for the adventurous traveller. Near the city of Santiago de Cuba many excellent beaches can be found. You can stay in Santiago and visit the beaches in this area.
 Cuba's abundance of coral reefs and cays, variety of colorful marine fauna, over 900 species of fish and crystal-clear water make it the perfect place for diving buffs. Cuba is surrounded by one of the world's largest coral reefs. The coral reefs and clear waters off the coast of Cuba offer some of the best diving in the Caribbean and some of the best-preserved reefs on earth. In fact, Diving is Cuba's number one water sport.
The island has over 30 dive sites from which to choose. You don't have to go far from Havana to find diving sites since Jicoba and the surrounding beaches have diving locations.
The remote Peninsula of Guanahacabibes has the potential to become a popular destination for American divers. It's a five-hour drive from Havana over tortuous roads to get to Maria La Gorda beach and Internationl Dive Center.
The land and marine reserve encompasses some 200 square miles (518 square kilometers) on Cuba's westernmost tip about 135 miles (217 kilometers) northwest of Havana. It juts into the Caribbean, with protected forests on land, aquamarine waters lapping at white sand beaches and pristine coral beds teeming with a colorful variety of fish just offshore. This dive site is perfect even for the most demanding divers with its clear water, spectacular coral heads towering 60 feet (18 meters) and an abundance of marine life
Cuba is one of the few places where you can actually explore offshore shipwrecks. There are over 1,000 sunken shipwrecks scattered around Cuba's waters. There are sunken Spanish galleons and 50 diving sites including caves found off the coast of the Island of the Youth or La Isla de la Juventud. Other areas include Playa Santa Lucía, Guardalavaca, Cayo Coco, Playa Ancón, Varadero and Playa Girón to name a few.
Most resorts rent equipment, have diving shops and, if you are a novice, you may even take diving lessons. Cuba has certified diving instructors. There is a complete description of Cuba's dive sites at: www.scubatravel.co.uk/americas/cuba-diving.html and www.visitcuba.com/2012/03/top-10-dive-spots-in-cuba/
The waters around Cuba are also perfect for yachting. There are marinas or fondeaderos and other facilities in Havana, Varadero and the Island of the Youth. Yachting excursions are also available. Those bringing yachts or other vessels from the U.S. and other countries should check with Cuban customs to find how long a boat may be kept in the country and the paper work involved. There a detailed discussion in another section of this site.
 One would need volumes to describe all of Cuba's beaches in detail, so we have provided a map in this guide for your convenience. It doesn't show every beach on the island.