Santiago de Cuba province is nestled between Granma, Holguín and Guantanamo provinces in the heart of the Sierra Madre mountain range.  Cuba's second largest city is Santiago de Cuba (population 500,000) on the southeast coast near the eastern tip of the island in a sheltered bay at the foothills of the Sierra Maestra Mountains.  Like most large Cuban cities it is the capital of its province with the same name.  It is known as "the cradle of the revolution" because of the revolutionary activities that have taken place there.  Santiago is also the most Caribbean and charmingly picturesque city in Cuba—which is reflected in the relaxed life-style of its people and tropical ambiance. Santiago is a hilly city with colonial architecture and a fortress. The best way to see the city is on foot.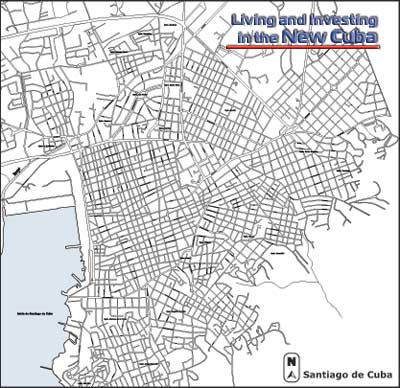 After Havana, Santiago has the most culture and is Cuba's most exotic and ethnically diverse city.  The Afro-Cuban tradition is very strong in this city as reflected by the music and the annual carnival—considered Cuba's best.  The nightlife isn't as good as in Havana, but is a close second. There is a lot to see and do in and around the city including discos and restaurants.  Cabaret music is plentiful and there are many spots to hear Latin music.
         On the outskirts of Santiago is Baconao Park located between the Sierra Maestra mountain range and the Caribbean Sea. It extends for a little over 30 miles, is the largest park in Cuba and has a long series of beaches with hotels and restaurants.  To the east of Santiago is the La Gran Piedra (Big Stone)—a giant outcropping from which you can see Jamaica or the Dominican Republic on a clear day. There are a series of good beaches east of the city.  Siboney is the closest beach and popular with the locals.  Juragua and Daiquirí (in Bacanao Park) and a dozen other well-known beaches are found in this province.  Balneario de Sol, about 50 minutes drive from Santiago, is a beautiful resort.
         As a recent article pointed out, "Far from the tourist boom and foreign investments of Havana, residents of eastern Cuba are struggling with the country's sputtering economy, some faring better than others in a region that is poorer and more isolated than the bustling capital. Far fewer people get remittances from family overseas. While many from Santiago have opened businesses under the economic reforms of the last four years, the city is largely removed from the big-spending foreign tourists and wealthy Cuban-Americans. Cell phones remain a rare luxury. Internet is available to the public in just a handful of locations Residents of Havana, a city only four times larger, have dozens of places to get online."