Sancti Spíritus (80,000) is the next town of importance found in a province with the same name. Located east of Trinidad and in the center of the country it is one of Cuba's original towns.  This city would not be a good place to live because it is rather unattractive and lacks infrastructure.  Therefore, most tourists bypass this town.  Just outside the city is Lake Zaza, the country's largest artificial lake, famous for its largemouth bass.  Sport fishing is very popular here.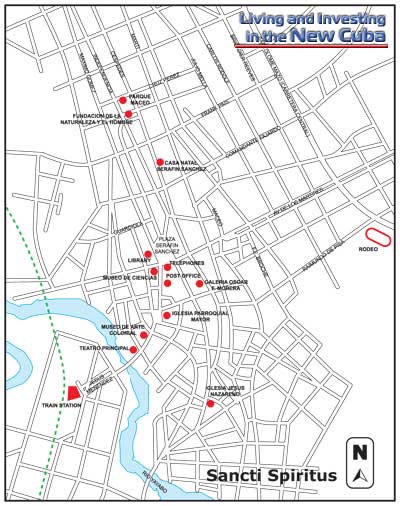 About 50 miles from Cienfuegos in Central Cuba and south of Santa Clara in Sancti Spíritus Province, lies Trinidad — a beautifully preserved colonial city of about 50,000 inhabitants and Cuba's third oldest settlement.  At first sight it appears to be a place where time has stopped. It is considered a national monument with its open spaces and squares, buildings with ther neoclassic and baroque style, roofs of ancient red tiles and cobblestone streets. 
         There are several good museums in this lovely town.  Ancón, about 7 miles from Trinidad, has a coral reef offshore, good fishing and scuba diving, and is one of the country's prettiest beaches. Costa Sur is another nearby beach resort to visit. The health resort town of Topes de Collantes in the Sierra del Escambray mountains is worth visiting. Bird Watching, hiking trails and horseback riding are some of the activities in this area.