Cienfuegos is Cuba's smallest province.  It is surrounded by the provinces of Matanzas to the west, Villa Clarita to the north, Sancti Spíritus to the east and the Caribbean to the south.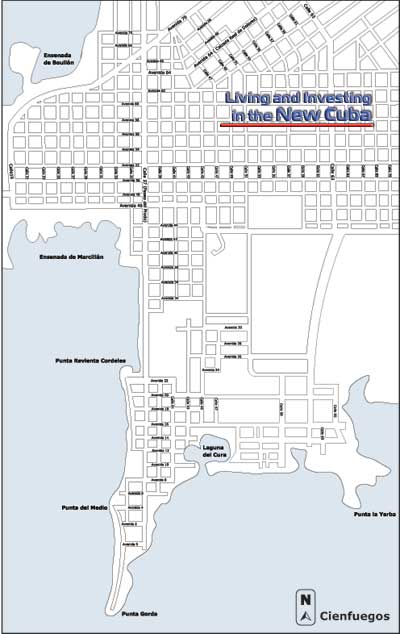 On Cuba's south coast lies the city of Cienfuegos, the capital of Cienfuegos province.  Its name means '100 fires' but is really named for José Cienfuegos, the one-time Captain General of Cuba.  Situated on the north shore of Jagua Bay—the city's main feature— this city is the chief town of its province and one of Cuba's important seaports. This pleasant seaside city is known as the "Pearl of the South" or La Perla del Sur, and has a slight cosmopolitan feeling with examples of late neo-classical architecture.  It is laid out on a rectangular grid.  Like Havana, the city has a Malecón, or seaside promenade, facing the ocean. 
         Thirty miles to the south of Cienfuegos is Playa Rancho Luna which has facilities for every type of beach activity. There is also a string of other good beaches like Playitas.  Fishermen will be happy to know there are a few large lakes in this province.   There are also caves to explore and a hot springs.
         The city of Ciego de Avila is between the cities of Santa Clara and Camaguey in a province with the same name.  The city is also located at Cuba's narrowest point. Founded in 1840 the city is known for its buildings with arcades, columns,  and roofs. There is not much to see in this city, but the surrounding area is worth exploring.   Laguna de Leche and Laguna Redonda are two well-known lakes in the region.
         Cayo Coco is the main tourist island off the coast of this province.  It has 14 miles of white sand beaches along a large coral reef, lagoons and is connected to the mainland by an 18-mile long causeway. The smaller Cayo Guillermo key, just west of Cayo Coco, is connected to the latter by a causeway.  One of the nicest beaches is Playa Pilar, The largest sand dunes in the Caribbean are found at Cayo Guillermo. This area was one of Hemingway's favorite fishing spots and stomping grounds.