Matanzas, which means 'slaughter' or massacre in Spanish, is the main city in Cuba's second largest province bearing the same name.  Located on Matanzas Bay, it lies about 65 miles east of Havana and 21 miles west of Varadero. The city has a population of around 100,000.  It is a port and used to be the center of Cuba's sugar industry. Today it is an industrial town. In the 19th century, Matanzas was nicknamed the "Athens of Cuba" and was the home of many well-known intellectuals, especially poets.  The city has also been referred to as the Cuban Venice, due to the many bridges over the Yumuri and San Juan rivers for pedestrians and vehicles.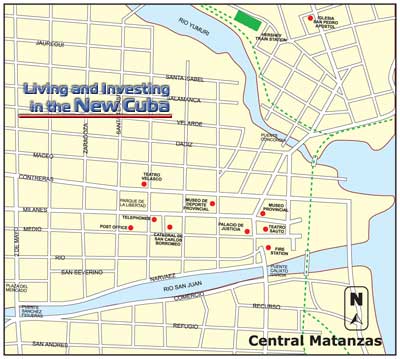 In recent times Matanzas city has taken a back seat to the resort of Varadero.  Life is slower-paced and more laid-back than Havana.  There are a few good museums, restaurants and nightspots in this city. The famous Bellamar Caves or Las Cuevas de Bellamar, five miles south of the city, are Cuba's oldest tourist sight and are considered a popular attraction.  These caves are about 2,500 meters long, mural paintings, fossils, have a stream inside and evidence of peoples who inhabited the place over 1600 years ago.
         Birdwatchers and nature lovers will enjoy the Zapata Peninsula, also known as the Ciénega de Zapata, located about 100 miles from Havana in the southern part of Matanzas province. It is the largest and most well-preserved wetlands or humedal in the Caribbean, boasting a bird sanctuary and is a virtual bird watcher's paradise.  In addition, 200 species of birds, turtles, alligators, fish, mammals and other forms of wildlife abound.   This area was named for its shape that resembles the outline of a shoe (zapato in Spanish).
         However, the main attraction of Matanzas Province is Varadero, Cuba's most famous beach resort.   It has become the tourist capital of Cuba and the largest tourist complex in the Caribbean.  Varadero is to Cuba what Cancún is to Mexico. 
         Located three hours by car from Havana, its beaches are some of the finest in the Caribbean, if not the world.  They are a sight to behold.  The resort is found on the Hicacos Peninsula and has 12 miles of uninterrupted white-sand beaches bordered by shallow, clear turquoise waters. 
         Varadero's unparalleled beauty has attracted tourists for almost a century.  Originally a playground for wealthy Americans, it has now become popular with Canadians and European sun worshipers. 
         There are a number of modern hotels in the area.  Golf lovers will enjoy the 18 -hole course, Club de Golf las Americas, at the beautiful Du Pont Estate. The nightlife falls short of what you would expect form a resort of this size. However, there are discos, movie theaters, cabarets, restaurants, fast food cafes serving everything from pizzas to hamburgers, satellite TV showing HBO and MTV, numerous bars and other entertainment will keep you from getting bored. Of course, there are a variety of water sports, including scuba diving, and many excursions to keep you busy.  The town of Varadero is located nearby.
         Playa Larga and Playa Girón are other beaches found in Matanzas Province.  This area is famous for scuba diving.  Near Playa Girón is the Bahía de los Cochinos (Bay of Pigs), the sight of the ill-fated invasion attempt by Cuban exiles in 1961. The Laguna del Tesoro is a lake famous for its freshwater fishing and largemouth bass.