Exploring Cuba
Some things to consider
The best way to decide where you will want to settle in Cuba, is to visit those areas having activities that fit your particular lifestyle. Consider the things you like to do and then check out the towns, beaches or cities which best suit your needs and interests.
If you are accustomed to living in an urban area offering a variety of cultural events, entertainment and other stimulating activities, then small towns or rural living is not for you. You can eliminate living in a city if you are the type of person who is easily annoyed by traffic, noise, pollution and other inconveniences usually associated with urban living. One advantage to living in a rural area or small town is that the cost of living is lower.
Residing at an isolated resort may seem attractive, but there is a downside. Beach properties are usually an excellent investment but prices can be high due to demand. Also, most of the population is seasonal and you may find it difficult to making long-term relationships. In non-resort areas the population fluctuates less thus making it easier for enduring friendships. The "off season" can be dull and boring for some people. However, there are some people who relish the peace and quiet.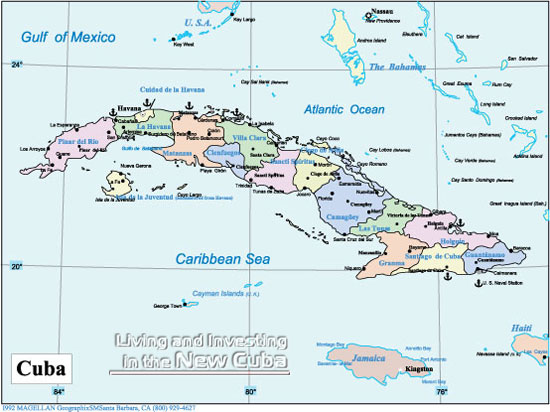 Another factor in making your choice is weather. In the tropics the low lands are hot and higher elevations and mountains areas are cooler: the higher you get the lower the temperature and the lower you go the hotter it gets. Living at the beach is nice for a while but can get old when one grows tired of the insects and humidity. Isolated beaches can pose problems when it comes to emergency medical care. So, look for the climate that best agrees with you.
For information, videos and maps aboutCuba's provinces see: 
http://www.local10.com/cuba-coast-to-coast
http://www.infotur.cu/mapas.aspx