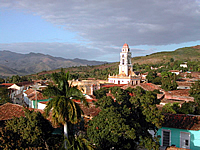 Cuba's weather is pleasant and subtropical. The island lies in a tropical zone, but trade winds of the ocean and warm currents from the gulf stream keep the climate moderate, and less extreme than as in other tropical areas.
There are only two seasons, the dry season or la estación seca, from November to early May, and the rainy season or, la estación lluviosa, from May to October. It rains every day in the summer. Relative humidity is 77 percent during the dry season and 82 percent in the rainy season.
Showers can last up to an hour and are usually followed by sunshine and blue skies. Speaking of sun —there is an average eight hours of sunlight daily and 300 sunny days throughout the year.
There are no pronounced seasonal variations in temperature. The average temperature is around 77˚F /25˚C. Humidity and rainfall are the highest in September or October. July and and August are the hottest months with temperatures averaging 89˚F /32˚C. The coldest months tend to be January and February. September is the wettest month and February and March tend to be the driest. There is no danger of frost in Cuba since the lowest temperature is around 45˚F. The average annual temperature of Havana is approximately 77˚F/25.2˚C with summer highs of 82˚F/25.8˚C. The ideal time to visit the country is between March and May.
The climate varies from region to region. The mountains are cooler with the south and east being drier and warmer. In general the eastern provinces are warmer than the western ones except in the mountain areas.
Cuba lies in an area that is subject to hurricanes. The hurricane season runs from June to November with the worst storms in September or October. There have been a few big hurricanes this century that have affected Cuba. Havana and Pinar del Río are usually more susceptible than the eastern provinces. However, you should not lose any sleep over the prospect of hurricanes. They don't occur on a regular basis and you are usually given ample warning to take adequate measures to protect yourself.
Because of Cuba's warm tropical climate you can feel comfortable wearing casual cotton clothing during the day. However at night, you may be required to dress-up for going to restaurants or nightclubs.