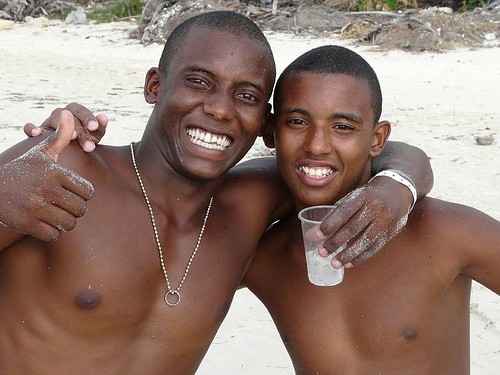 Cuba's nearly 12 million people are mostly Spanish and Africans who came to the island over the past 500 years. About 65 percent of Cubans consider themselves as white or descendants of Spanish colonial settlers and other immigrants. Around 10 percent of the population is black, 20 percent mulatto (a mixture of European and African) and 1 percent Chinese who were brought in as laborers in the mid-1800s as the slave trade from Africa disappeared. Most of the country's Chinese population lives in Havana's Chinatown. At one time Havana's China Town or Barrio Chino was said to be the largest in Latin America. However, today the neighborhood has lost most of its former splendor as the country's Chinese popular dwindled or was absorbed into the Cuban culture.
Cuba's Indian population was virtually wiped out centuries ago, so the Spanish imported 800,000 African slaves. The percentage of blacks is much higher in eastern Cuba. These figures may not be accurate since Cuba is a 'melting pot'. The races have so intermingled that it is impossible to classify Cuba's population mixtures with total accuracy.
Cubans seem to prefer the urban lifestyle. The population density is 99.6 inhabitants per square kilometer with the majority of people living in urban areas. Nearly 70% live in cities and towns with a third living in Havana province and a fifth in the city of Havana itself — around 2.2 million. Santiago has around 440,000 inhabitants, Camaguey 300,000, Holguín 240,000, Guantánamo 208,000, and Santa Clara 200,000. Other areas in decending order of inhabiitants are Bayamo, Cienfuegos, Pinar del Río, Las Tunas, Matanzas, Manznillo, Ciego de Avila and Sanctí Spíritus.
All of Cuba's people brought with them their traditions and culture, so present Cuban traditions, music, dance and religion show aspects of the different groups.
Freedom of religion and beliefs is guaranteed by the Constitution of the republic. Most Cubans are Roman Catholics. There are also a small number of Protestants and a Jewish community of several thousand in Havana who still express a sense of community despite their dwindling numbers. Prior to the revolution there were around 20,000 Jews in Cuba, most of whom sought refuge during World War II. Presently there are only a few thousand Jews left in Cuba. There is still a Kosher butcher shop, a synagog and a Hebrew Sunday School for children in Havana. Most recently a couple of the synagogs heave been remodeled.
Many of Cuba's blacks are followers of various Afro-Cuban cults or religions similar to the voodoo cult of Haiti. These cults have their origins in Africa, were introduced by African slaves and are a blend of elements from Catholicism and African native traditions. They are reflected in the country's literature, poetry, dance songs and dramatic arts. Santería is the most widespread of the Afro-Cuban religions.
One thing that sets Cubans apart from other Caribbean peoples is their work ethic. Of all Latin American people Cubans are by far the hardest working and are known for their business acumen and entrepreneurial skills. However, the Cuban people are unique in that they combine a strong work ethic with the ability to enjoy themselves like other Latins.