The Lay of the Land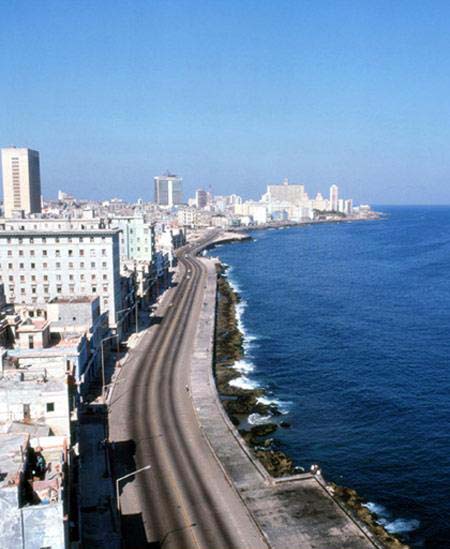 Cuba is the largest and most populous island in the Caribbean Sea.  It is located in the Western Caribbean Sea with the Atlantic Ocean is to the north and the Caribbean Sea to the south.  The island lies almost south of the Tropic of Cancer at the mouth of the Gulf of Mexico.  The province of Pinar del Río is about 120 miles northeast of Mexico's Yucatan Peninsula while Havana is around 100 miles south of Key West Florida, 48 miles west of Haiti and 87 miles north of Jamaica.   Santiago de Cuba is located 180 miles northeast of Jamaica.
               The island's shape resembles that of an alligator.  It is about 775 miles long — approximately the same distance from New York to Chicago— and ranges in width from 25 to 120 miles.  Its northernmost point is at Cayo Cruz del Padre and its southernmost point is Punta del Inglés.  Punta Quemados and Cabo San Antonio are the easternmost and western most points respectively. The area of the island is 44,218 square miles (110,860 square kilometers) making it nine times bigger than Jamaica and twelve times larger than Puerto Rico.  About 60 percent of the land is flat fertile plains, used for cattle grazing and growing sugar cane.
               Forested mountains make up a quarter of Cuba's territory.  There are three main mountain areas, one at each end of the country and a third in the south central region.   The Sierra Maestra, located at the eastern end of Cuba, has the most rugged terrain and is Cuba's most spectacular mountain range.  It has been the scene of several guerilla uprisings.  The highest peak in the range is the Pico Turquino which rises to 6,540 feet.  The Trinidad Mountains are part of the Sierra Escambry in the center of the island and are only 3,000 feet at their highest point.  The Sierra de los Organos in western Cuba, where unique knolls called mogotes, or buttes, rise from the floor of the Viñales Valley, got its name because it looked like the pipes of an organ to the Spanish conquerers.  These mountains and the Sierra del Rosario are both part of the Cordillera de Guaniguanico mountain range.
               Cuba's 2,200 miles of jagged coastline has almost 300 alluring beaches and 200 bays.  It also has around 1000 islands, keys and islets. The island is divided into 14 geographically different provinces plus the Island of the Youth or Isla de Juventud, formerly called the Island of the Pines or La Isla de los Pinos. From east to west, the population centers are Santiago de Cuba, Guantánamo, Holguín, Granma, Las Tunas, Camagüey, Ciego de Avila, Santi Spíritus, Cienfuegos, Villa Clara, Matanzas, the Province of Havana, the City of Havana and Pinar del Río—the tobacco-growing region.