Cuba will offer advantages none of the other Latin American countries have. Aside from its beauty, the most compelling reason for living in Cuba is its convenient location. The country is only about 100 miles from U.S. mainland — making it very accessible.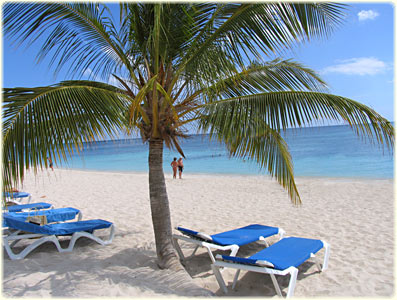 Tropical Cuba is really closer to the U.S. than Mexico's best vacation sites. One has to travel hundreds of miles into Mexico to find good resorts, tropical climates and the best area to live— northern Mexico is dry in the summer and very cold in the winter. Nearby resorts like barren Ensenada in Baja California are no match for Cuba's tropical beauty.
Because of Cuba's proximity to the States it was the playground and perennial escape for Americans before the revolution of 1959. In the old days people would flock to the island by boat, plane and even in private yachts for a few days of fun and pleasure. There were also many Americans and other foreigners living there on a permanent basis. The most famous expatriate was Ernest Hemingway.
Once the country is completely accessible to Americans you will have the option of living there on a full or part-time basis. It is comforting to know you will be able to return to the States quickly in the event of an emergency or other personal business— Miami is only 30 minutes away by air. Such closeness also tends to reduce the feeling of isolation that affect many people when they leave their own country to move to a foreign land. Friends and relatives will be able visit you easily. This proximity provides easy access to U. S. culture in case one gets homesick. Miami TV and radio stations can be picked up from Havana and other nearby areas, giving you a quick fix of U. S. culture.
A trip to Cuba is really like travelling between two U.S. cities. Eventually you will be able to go shopping, visit friends or take care of business in Miami and return the same day. You will even be able to commute back and forth if you really needed to— making it ideal for some businessmen.
Ask many people why they would like to live in Cuba, and its mild tropical climate is usually near the top of the list. Canadians, Europeans and others have been flocking to Cuba for years to escape harsh winters. They can be found basking in the sun at any of the island's beach resorts. Cuba has around 300 days of sunshine each year.
Cuba is also a healthy place to live. The county's salubrious climate agrees with most people. Cuba's longevity rate is as high as most developed countries—making it one of the healthiest countries in the world.
This healthy life-style is in part due to Cuba's first-rate health care system. Doctors are well-trained and medical facilities are good. Much innovative research has been done in Cuba. Foreigners can be sure of receiving excellent health care. However, if you don't feel comfortable with Cuba's health care system it will be easy to see a U.S. doctor since Florida is so near.
Another compelling reason for living in Cuba is the country's friendly people. They are warm, hospitable, fun-loving people famous for their sense of humor and knowing how to enjoy life and getting together for song and dance. Many will even take you into their homes to meet their families. Despite the poor relations with the U.S. in recent years, the average Cuban will treat U.S. citizens courteously.
In Cuba there is plenty to do— something for everyone and everything for someone. Because the island is so large there are many sights to see, places to explore and a myriad of exciting activities to keep a person busy—especially in and around Havana. You won't be bored unless you are just plain lazy. It will be easy to lead an active lifestyle. Speaking of lifestyles, if you are tired of the hustle bustle and rat race you will find it easy to adopt Cuba's more laid back way of living. Whether you live there full or part-time, you will enjoy the slow pace.
When the embargo is eventually lifted and relations normalize with the United States there will be even more forms of entertainment and activities designed to cater to a U.S. tourist market and growing retirement community.