As the author of this guidebook I have spent the last fifty years of my life studying, traveling, working and deeply immersing myself in all aspects of Latin America's culture. I have also authored guidebooks about the phenomenon of living, retiring and working in Costa Rica, Panama and Nicaragua. Based on my experience and perception of the region I can assure the readers of this guidebook that much of what I say about Cuba's potential and future is bound to come true. It's just a matter of time and how the country's events unfold.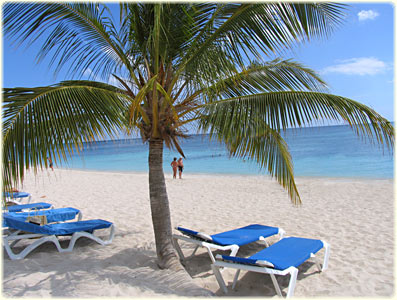 At present there is a kind of reverse migration occurring in our very global world. People are migrating to new countries in search of opportunities and a better way of life. Now there are new frontiers to conquer. The Internet and other improved forms of communication are facilitating this process. Hispanics are moving to the United States in search of economic opportunities. On the other hand, young entrepreneurs, Baby Boomers and other adventurous souls are migrating south in search of opportunities in developing countries.  I have seen this happen over the last 20 years in Costa Rica—Latin America's premier retirement haven. The same thing is occurring in Nicaragua and Panama but to a lesser extent. Ecuador, Columbia, Uruguay and Chile are now the focus of a small but growing number of expatiates.        
         Cuba will offer advantages none of the other Latin American countries have. Aside from its beauty, the most compelling reason for living in Cuba is its convenient location.  The country is only about 100 miles from U.S. mainland — making it very accessible.
         Tropical Cuba is really closer to the U.S. than Mexico's best vacation sites.  One has to travel hundreds of miles into Mexico to find good resorts, tropical climates and the best area to live—northern Mexico is dry in the summer and very cold in the winter.  Nearby resorts like barren Ensenada in Baja California are not a  match for Cuba's tropical beauty. 
         Mexico has lost much of its appeal as a retirement haven in recent years due to a number of factors.  The country rates a close second to Columbia when it comes to violence, corruption, drug trafficking, recurrent economic woes, assassinations and general political instability.  The kidnapping of both foreigners and Mexican citizens has risen in recent times.  Most of the country's famous actors and singers now live in Miami for fear of being kidnapped. The police seem be more violent and dishonest than the criminals—often extorting foreigners because they are easy prey. A few years ago the head of Mexico's Drug Enforcement Agency was indicted for accepting $500,000 dollars a month from the drug cartels. The drug cartels are completely out of control.
         Forget doing business in Mexico.  The financial climate is unpredictable due to the current economic crisis and possible devaluations.  Most investment opportunities are drying up.  On top of that, any foreigner who has ever tried to start a business there will tell you the red tape and payoffs seem unending.  Couple all this with the tension between the U.S. and Mexico over drug traffic and unbridled illegal immigration and you have a country that is no longer conducive to long-term living let alone retirement or for starting a business. 
         America's tropical paradise, Hawaii, is six hours away by plane from the west coast and prohibitively expensive.  Cuba's Varadero resort is considered by many to be just as beautiful as Hawaii.
         Because of Cuba's proximity to the States it was the playground and perennial escape for Americans before the revolution of 1959.  In the old days people would flock to the island by boat, plane and even in private yachts for a few days of fun and pleasure.  There were many Americans and other foreigners living there on a permanent basis.  The most famous expatriate was Ernest Hemingway.
         Once the country is completely accessible to Americans you will have the option of living there on a full or part-time basis. It is comforting to know you will be able to return to the States quickly in the event of an emergency or other personal business— Miami is only 30 minutes away by air.  Such closeness also tends to reduce the feeling of isolation that affect many people when they leave their own country to move to a foreign land.  Friends and relatives will be able visit you easily.  This proximity provides easy access to U. S. culture in case one gets homesick.   Miami TV and radio stations will eventually be viewed from Havana and other nearby areas, giving you a quick fix of U. S. culture.
         A trip to Cuba is really like travelling between two U.S. cities.  Eventually you will be able to go shopping, visit friends or take care of business in Miami and return the same day.  You will even be able to commute back and forth if you really needed to—making it ideal for some businessmen.
         Ask many people why they would like to live in Cuba, and its mild tropical climate is usually near the top of the list.  Canadians, Europeans and others have been flocking to Cuba for years to escape harsh winters.  They can be found basking in the sun at any of the island's beach resorts. 
         Cuba is also a healthy place to live. The county's salubrious climate agrees with most people.  Cuba's longevity rate is as high as most developed countries—making it one of the healthiest countries in the world.
         This healthy life-style is in part due to Cuba's cradle-to-grave health care system.  Doctors are well-trained and medical facilities are good.  Much innovative research has been done in Cuba.  Foreigners can be sure of receiving excellent health care. However, if you don't feel comfortable with Cuba's health care system it will be easy to see a U.S. doctor since Florida is so near. 
         Another compelling reason for living in Cuba is the country's friendly people.   They are warm, hospitable, fun-loving people famous for their sense of humor and knowing how to enjoy life and getting together for song and dance.  Many will even take you into their homes to meet their families.  Despite the poor relations with the U.S. in recent years, the average Cuban will treat U.S. citizens courteously.
         In Cuba there is plenty to do— something for everyone and everything for someone.  Because the island is so large there are many sights to see, places to explore and a myriad of exciting activities to keep a person busy—especially in and around Havana.  You won't be bored unless you are just plain lazy.  It will be easy to lead an active lifestyle.  Speaking of lifestyles, if you are tired of the hustle bustle and rat race you will find it easy to adopt Cuba's more laid back way of living.  Whether you live there full or part-time, you will enjoy the slow pace.
         When the embargo is lifted with the United States there will be even more housing choices, forms of entertainment and activities designed to cater to a U.S. tourist market and growing retirement community.
         The affordability of the country will be another plus.  Many Americans living below the poverty line in the United States will be able to live in moderate luxury on a modest retirement or investment income in Cuba. Like most third world countries the cost of living for residents will be relatively low when compared to the U.S., Canada or Europe.  Housing, utilities, transportation and food will be bargains.  If you have dollars, your money will go even farther.  Domestic help will be inexpensive, too. It will be possible to hire servants for modest wages to do cooking, cleaning, gardening, baby-sitting and a multitude of other tasks.  This will free you to have more time to yourself and enjoy all that Cuba has to offer.
         Although some cracks have appeared in the political system in recent years due to a poor economy, the country is stable.  For fifty years the government has endured in its present form.  Not many third world countries have enjoyed this kind of stability — indeed a rare phenomenon in Latin America.  Only Costa Rica can make a similar claim.
         There is by far less crime in Cuba than in the U.S. or neighboring Caribbean countries.   But like every country in the world, Cuba does have some crime.  No society is crime free.  However, violent crime is rare.  Penalties are harsh and serve as a powerful deterrent.  There is a lot of petty crime and theft.  As in other places, the countryside is more crime free than urban areas.
         As we alluded to in the foreword, there may be a wealth of possibilities for the energetic entrepreneur in Cuba. There is also a huge consumer market of nearly 12,000,000 people waiting to be tapped. Cubans have been aware of most American products and brand names for many years. In fact, many U.S. goods are already being sold on the black market. Everything from Campbell's Soup to Nike are presently available but in limited supply.
         All of the factors above, plus such intangibles as the sensuality of the island, its mystic, tropical flavor, incredible vistas, prospect of making new friends, exciting adventures that await you, the best beaches in the Caribbean and so much more, will make Cuba an ideal place to live.  So, be prepared when the time comes to enjoy Cuba in all its splendor.